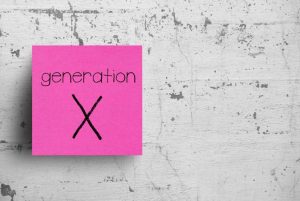 We are used to hearing about the bleak financial prospects of Millennials and Generation Z, compared with their older Baby Boomer counterparts. But we hear comparatively little about the long-term savings position and financial health of people born between 1966 and 1980.
A new report1 from the Pensions Policy Institute (PPI) focuses on the potential pension woes of those known as Generation X.
RUNNING OUT OF TIME
Members of Generation X have between 12 and 28 years left to work and build up a sufficient pension pot to fund their post-working years. The PPI report suggests this group is at greater risk of reaching retirement with insufficient income. Contributing factors include changes in the labour market and pension landscape, as well as a challenging economic climate. All have increased the complexity of preparing for later life.
A SHIFTING PENSION LANDSCAPE
Certain specific issues have contributed to the risk of Generation Xers reaching retirement with inadequate funds. Many defined benefit schemes in the private sector were phased out, meaning that a large proportion of this group will rely on defined contribution schemes. The PPI says they are also likely, on average, to receive a lower State Pension income than their predecessors. Additionally, many Generation Xers were in their late thirties, or older, when auto enrolment was introduced – too late for them to benefit fully.
TIME TO TAKE ACTION
It's never too late to start saving for retirement but it's potentially more urgent for members of Generation X to make time now to review their personal circumstances, preferably with some professional help. If you have concerns about the adequacy of your pension, get in touch.
1Pensions Policy Institute, 2019
A pension is a long-term investment. The fund value may fluctuate and can go down. Your eventual income may depend on the size of the fund at retirement, future interest rates and tax legislation. The value of investments and income from them may go down. You may not get back the original amount invested.